TakeAway Theatre is a Cape Town based theatre company well known for industrial theatre, corporate and social intervention theatre. Their existing website had the fun element and featured well for the phrase "industrial theatre" but for other relevant topics they did not feature.
Before
Visitors to the website were greeted with a doorway page: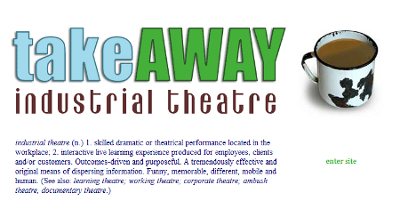 The doorway page, had one navigation option through to a welcome page from which you could then navigate the website.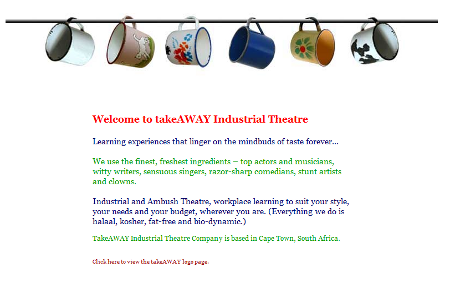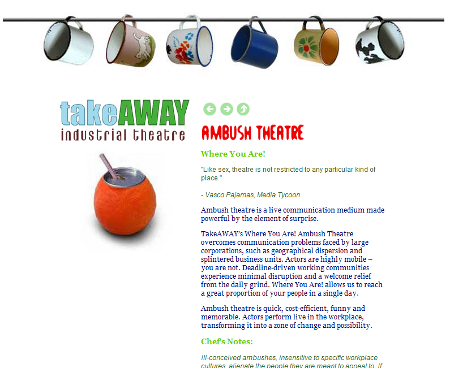 The Brief
Keep the fun! Make use of existing design.
Content management system to enable regular updating/adding of content.
Include a blog
Make navigation clearer and consistent.
Optimise for search engines
Have we already mentioned the fun element?
The Result
The existing design and layout was reused as the client really wanted this to remain as is. The result is a fun website but now the content is also engauging and fresh, www.takeawaytheatre.com.
Content management system was provided allowing the client to update website content, create new pages, manage menus, etc. The website makes use of the WordPress CMS system.
Website sections and navigation were reworked to make getting around the website more logical.
Breadcrumbs on pages
Sub-navigation within sections
Full section navigation from home page
The home page was built so that anyone arriving on that page would be able to navigate directly to any page within the website. Also the website sections make use of fun terminology; Favorites=Theatre Types, Ingredients=Themes and Specials=Theatre Packages, the challenge was to clarify these website elements' meaning without detracting from the menu style of the site.